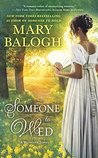 Someone to Wed
by
Mary Balogh
My rating:
4 of 5 stars
Alexander Westcott unexpectedly inherited an earldom and a struggling estate last year but not the fortune to go with it, making him an excellent candidate for Wren Hayden's husband search. She plans to snare a husband with her fortune in order to overcome the impediment of a marred face and hermit lifestyle. Wren fails to take into account his social responsibilities and large close-knit family, however, and quickly changes her mind. Sparks of interest, though, are not so easily extinguished....
I really liked that the heroine was slightly older (about 30) and had a big purple birthmark on her face instead of being 20 and conventionally beautiful. (OK, so other than the birthmark she was beautiful, but still.) Wren probably should have struggled a bit more in overcoming 20 years of hiding her face behind a veil after 10 years of being locked in her room--had a few more setbacks, perhaps--which really makes my rating more like 3.5 stars, but I
so
enjoy the Westcott family, I'm rounding up.
I also liked that despite her fear of showing her face to the world and not being taught to read until she was 10, Wren was a savvy, successful businesswoman. Additionally, her blunt, brave honesty saved herself and others from so much anxiety and heartache. I hate when characters avoid saying things because the truth is hard or they fear the answer and think silence or a polite lie will be easier, and then they end up causing MORE pain due to uncertainty, confusion, misconceptions, etc. I hate when this happens in real life, too.
I liked that the romance grew a bit more slowly, although the final scene's dialogue sort of tries to make you think otherwise to a degree. (I didn't buy it, and it was better the other way anyhow.) Alexander and Wren grew to respect each other, which I appreciated.
For readers' advisors: character and setting doorways are primary (Regency England during the Napoleonic wars). There are a couple of sex scenes but not terribly explicit. Occasionally a mild swear word. No violence.
I received a free ARC from NetGalley and the publisher in exchange for my honest review.
View all my reviews